PARIS -- The service toss left Venus Williams' long fingers and the ball rotated ever so slightly as it ascended. And then, just as it reached its zenith about 11 feet off the ground, her Wilson W5 Divine Iris racket drove it, screaming, in the direction of Ashley Harkleroad.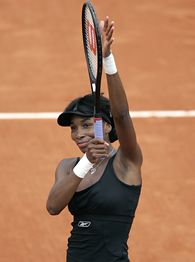 AP Photo/Francois Mori
Venus Williams hit only four aces in her second-round win, but one was 129 mph, establishing a record.
The ball skidded, almost imperceptibly, through the service box. Harkleroad never had a chance; later, she would ask if she even touched it. The modest-sized electronic display board flashed the number: 206.
It was history -- 206 kilometers-per-hour translates to 129 miles-per-hour, making it the fastest-recorded serve in the history of women's tennis -- but Williams herself probably was the only one in the intimate circus that is Court 1 who immediately grasped its significance.
She started laughing to herself.
"I loved it," Williams said later. "I lost a little bit because I saw the 206. I was so excited because I broke my record. When I was younger, I was always trying to serve harder and harder, and now I'm not trying to serve hard.
"It comes hard. So it was unexpected."
If metaphors are your thing, try this one: That serve is the Williams Sisters, Venus and Serena. Venus turns 27 in three weeks. Serena is 25: That's three years older than Martina Hingis when she first retired and two years older than Kim Clijsters was when Clijsters recently decided to retire.
Just when you think they're finished, they come at you hard. At this point, with 13 Grand Slam singles titles between them, it shouldn't be so unexpected.
Venus Williams took out Harkleroad on Wednesday 6-1, 7-6 (8) to advance to the third round at Roland Garros. She could be forgiven for losing her focus after that second-set bomb and losing five straight games.


Fastest-recorded serves
Women's tennis
| | | |
| --- | --- | --- |
| Player | MPH | Event |
| Venus Williams | 129 | '07 French Open |
| Serena Williams | 127 | '06 Cincinnati |
| Brenda Shultz-McCarthy | 126 | '07 Indian Wells |
| Venus Williams | 125 | '04 U.S. Open |
| Venus Williams | 125 | '01 Wimbledon |
| Venus Williams | 125 | '01 Wimbledon |
It is worth noting that the record Venus broke belonged to her sister, who hit one 127 mph last year in Cincinnati. If the mark is officially recognized, Venus will have four of the six fastest serves on record.
Fact, is the Williams Sisters still manage to be intimidating. Harkleroad intimated as much after the match.
"For some reason, I don't play the way that I [usually] do if I'm playing somebody else," Harkleroad said. "I'm still a little tentative.
"The whole match I felt, 'My timing is off, I'm not playing the way I know I can play. Why are you nervous? Maybe it's you're playing her and you feel that you have to do too much.'"
There was no maybe about it. On several occasions -- including the last point in the tie-breaker -- the 22-year-old Floridian tried too hard to make a good shot. Harkleroad had five set points in that extra frame and failed to convert one.
Asked about Williams' record-breaking serve, Harkleroad said, "She can pop them in there, pretty good. I wish I could have a little more on my serve … I'm only 5-6 and she's 6-2."
It's like, almost not fair.
Serena Williams, too, seems destined to reach the third round here. Her match with Milagros Sequera of Venezuela was delayed by early evening rain.
If Serena advances, it would mark the 22nd time since 1998 that both sisters have reached at least the third round of the same Grand Slam event. Until last year, the longest shutout streak was two major events.
With Serena slowed by a reoccurring knee injury and Venus struggling with wrist and elbow injuries, 2006 was a relatively Williams-free year at the major tournaments. Venus lost her only match at the Australian Open, Serena missed the French Open and Wimbledon and Venus skipped the U.S. Open. Serena won the Australian Open this year, but Venus was absent and the streak was 0-for-5.
Welcome back, Williams sisters.
Their big strokes and frightfully positive attitudes -- they reek of confidence, even at times when it doesn't seem logical -- win them matches. But their mere aura continues to unnerve opponents like Harkleroad.
"Everyone knows how well they respond to that moment -- and opponents overcompensate," explained analyst Mary Carillo. "Venus and Serena, especially Serena, have that gift. I mean, she should feel the pressure, yet somehow she transfers that pressure to the other side of the net.
"How does she do that?"
Venus' powers of persuasion will be tested severely later this week when she meets No. 4 seed Jelena Jankovic in the third round. The 22-year-old Serb, a straight-sets winner over Catalina Castano on Wednesday, beat her in a third-set tie-breaker six weeks ago in Charleston.
"I'm sure we both have raised our game since then," Venus said. "So, I'm looking forward to it."
Athletes say these things all the time without really meaning it. You get the idea that Venus Williams really, really means it.
"I feel good on the clay," she said. "I feel like I can get to almost any ball. I feel like, when I need to, I can raise the level of my game."
Greg Garber is a senior writer for ESPN.com.

http://sports.espn.go.com/sports/tennis/french07/columns/story?columnist=garber_greg&id=2887061&lpos=spotlight&lid=tab4pos1